Reasons To Make Mumbai Your Next Vacation Destination
Previously named Bombay, the bustling industrial city is home to some of India's top institutions like the RBI, Bombay Stock Exchange, and Bollywood. Attracting thousands of people every week who flock from various parts of the country to the city in search of greener pastures, the city has been nicknamed the city of dreams.
Why You Should Visit Mumbai?
Cities often lose their history and identity when transitioning into modernity. However, this is not the case with Mumbai, despite being India's commerce capital, the city has retained a lot of its old-world charm intermingling with modern life. for buffs of history, architecture, and food the city has so much to offer that sometimes even residents of the city itself have yet to experience completely.
What To Pack For Traveling To Mumbai?
Mumbai holds a tropical climate with temperatures rarely going below 24 degrees C. Travellers to the city are advised to pack light clothes that are light in color and allows for the body to breathe. Make sure to carry sunscreens, hats, sunglasses to combat the heat during the day. When traveling in the city, always ensure to stay hydrated so carry a water bottle with you wherever you go.
Is It Cheap To Get There?
This is subjective as the rate of flights and other transportation services will differ depending on the distance. However yes, in general reaching Mumbai is not very expensive. Thanks to air services like those in air India booking providing customers with airline rates to promote tourists to visit the city.
Getting around Mumbai
Thanks to the Maharashtrian government stellar development plans, from air services that provide fliers direct international flights to several major destinations in the world, to having one of the finest and extensive road networks in the country, passengers traveling in the city hold an ample amount of choice when it comes to transportation services. There also are train, boats and metro services which cater to a thousand people every day.
Tourist places in Mumbai
When it comes to tourist attractions, Mumbai doesn't fall into a single type. From historical buildings like the Gateway of India. To archaeological sites with the Elephanta caves, national parks, and several religious establishments like the Siddhivinayak Temple and ISKON temple. You will never run out of places to visit in Mumbai.
Best eateries in Mumbai
Mumbai is a haven for those with an appreciation of fine cuisine. From the humble street food vendors selling Vada Pav in CSMT to the historic Gaylord in the marine drive. The city menu can satisfy even the most hardened critic.
If you are traveling to the city here are a few eateries one must visit and try,
Café Mondegar in Colaba
Stadium restaurant in Churchgate
Café Madras in Matunga
Bade Miya in Colaba
Health and safety in Mumbai
When it comes to health and safety, tourists are advised to follow health and safety guidelines to avoid any mishaps. Common safety instructions include not taking food from strangers, not staying too late at night in unknown territory. To always be aware of one's belongings and stay sharp especially when traveling in a crowd.
Adventure Places in Mumbai
For people fond of adventure activities, Mumbai is home to several adventure places like Hakone which is known for its go-karting mostly. There are also other places like the Essel World and the Water Kingdom.
Festivals in Mumbai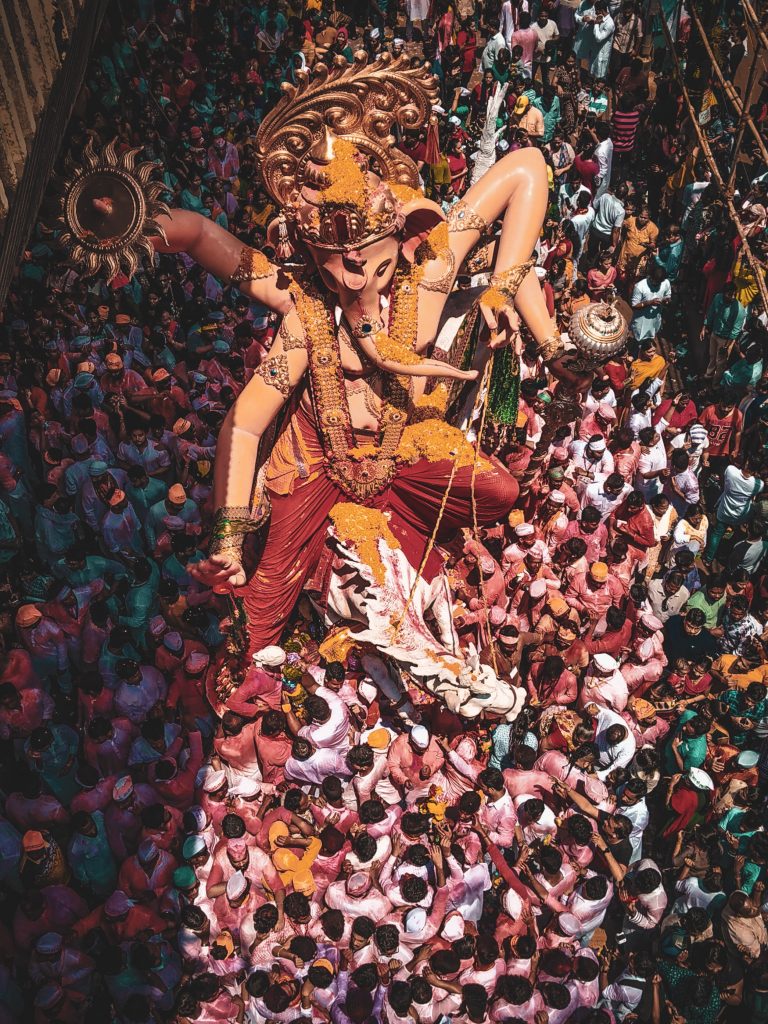 Ganesh Chaturthi is the biggest festival in Mumbai and only in the city of Mumbai will you see the event celebrated on such a large scale. If you are visiting during a festival month, make sure to stay and observe the celebration as the city comes to life with colors and music.
Best Places to Shop in Mumbai
The Chor Bazaar of Mumbai is famous throughout the country. It is rumored that if you lose something in the city, there is a high chance of it landing in Chor Bazaar. Many travellers visit the market as the name intrigues a lot of curiosity in travellers when they hear it. Another market of equal fame is the Crawford market.
Amazing Nightlife
When it comes to nightlife, the city of Mumbai never sleeps. Even when it is 2 am you will find several people in the road, some working, some clubbing, and many simply enjoying the night in the many places of Mumbai like the marine drive.
How to travel to Mumbai
One can travel to Mumbai by air, road, train, and even via sea. Air services still retain popularity in choices amongst travellers and many airlines like Air India booking provides cheap flights from many major destinations.
Where to stay in Mumbai
There are several hotels one can look for accommodation in the city from budget rooms to penthouse suites. Travelers are however advised to book from only official channels for their hotel booking or use trusted third-party agents.